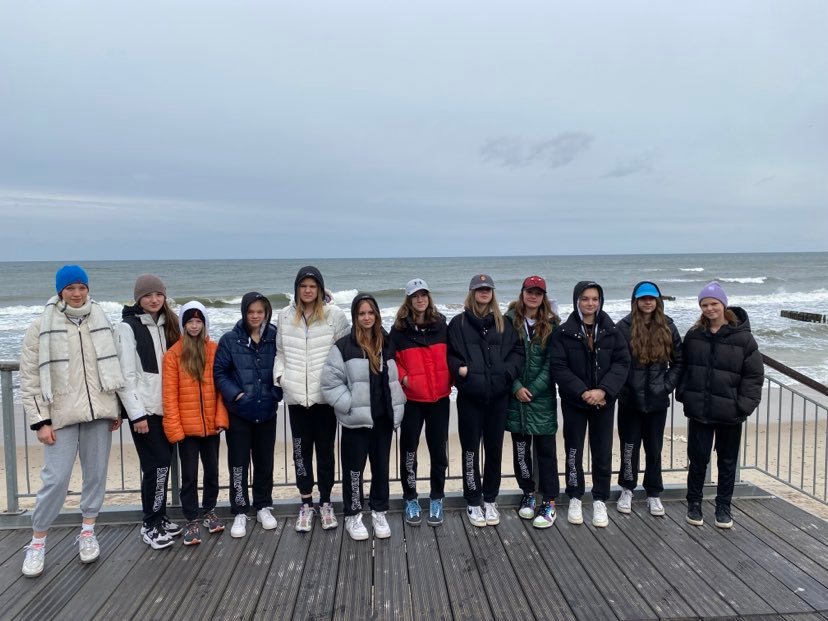 U13: Pomorskie tournee Młodziczek Starszych
4 kwietnia 2022

Autor: Robert Wolny

Pierwszy weekend kwietnia zawodniczki Trenera Kamila Słowika spędziły na zachodnim Pomorzu. Wyjazd – co tu dużo mówić "słodko – gorzki". Z tym, że zaczęliśmy od tego gorzkiego.

Niedzielne popołudnie należało do zawodniczek Kusego Szczecin. Niesamowita skuteczność podopiecznych Trenera Roberta Steciuka dała im zasłużone 2 punkty. Czy to zmęczenie podróżą, czy może dość klimatyczna hala – nie ma co szukać wymówek. "Kuse" dziewczyny były tego dnia lepsze.

Poniedziałek – to spacer po plaży w Mielnie, analiza sytuacji z poprzedniego dnia i na koniec dnia mecz z KSKK Koszalin. Początek niemrawy, nerwowy, z dużą ilością strat, które dawały tlen koszykarkom z Koszalina i te ambitnie walczyły o pierwszą wygraną w fazie grupowej. Dopiero po przerwie maszyna się naoliwiła i ostatnie dwie kwarty to gra pełnym składem i pełna dominacja na parkiecie. Efekt- zdecydowana wygrana MUKS Poznań.

Przed nami runda rewanżowa. W piątek 08.04.2022 o 18:15 gramy z KSKK Koszalin, niedziela 10.04.2022 o 10:00 to rewanż z Kusym.

Układ w tabeli jest taki, ze wszystko jest możliwe, awans do 1/4 MP U13K z pozycji od 1-3. Dlatego liczymy na Wasze wsparcie i zapraszamy na trybuny poznańskiego POSIR.


---